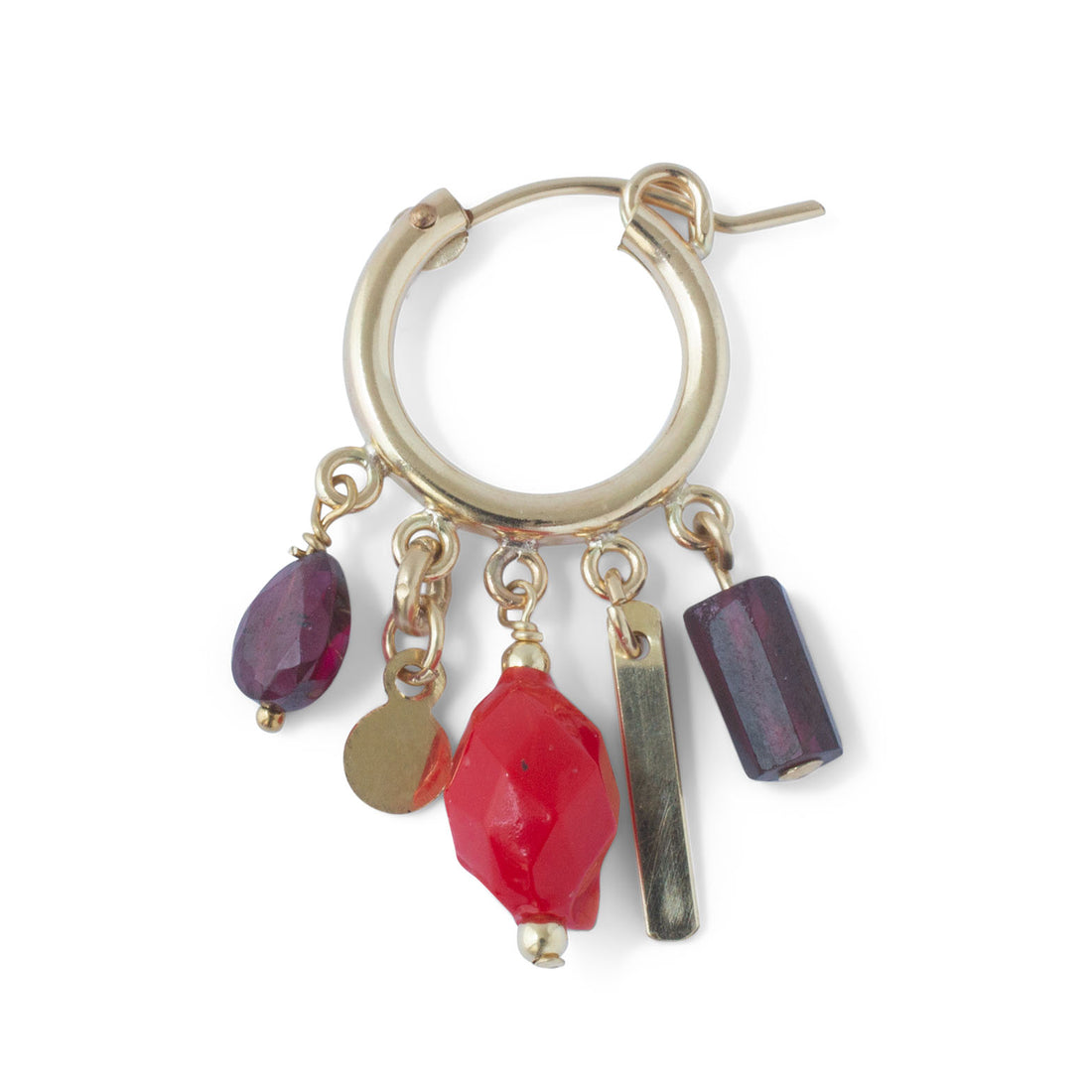 Eclectic Ear Feast //ONE PIECE
Meet the first item of our new BiTS & piEcES collection! 
For these gold filled hoops we're mixing the old with the new; on the blue version a vintage freshwater pearl and beautiful kyanite disc out of our storage, on the red a magnificent antique lipstick-red glass bead.
This collection is all about using what we already have. Throughout the years we've accumulated a lot of materials that we ended up not using. Until now!
It's time that all our beautiful unused stones, vintage and sometimes even antique finds see the light of day, often combined with brand new parts to create a contemporary design that fits with your everyday style.
Price is for 1 piece, buy 2 for a pair.
gold filled bold hoop, 22mm
on the blue hoop: a vintage freshwater pearl, a 3mm gold filled round tag, a lapis lazuli semi-precious stone, a gold filled rectangular drop and a kyanite disc

on the red hoop: a faceted teardrop red garnet bead, a 3mm gold filled round tag, an antique red hollow glass bead, a gold filled rectangular drop and a semi-precious red garnet hex bead
handmade in our Amsterdam studio
Take good care of your pieces and they will love you
forever...but please be aware that we create delicate items, so handle them with care!
We advise not to shower with or polish your gold
filled items. This will make the gold layer wear off quicker. If necessary gold filled can be cleaned with soft soap and a non-abrasive cloth.
read all about gold filled here
14kt gold, sterling silver and brass items can be polished with a special jewelry cloth.
Always store jewelry away from moisture.
We send out orders on Tuesdays & Thursdays (order before 14.00!)
NL (incl. Amsterdam) next day delivery in your mailbox.
PICK UP might be quicker! read about it here
INTERNATIONAL delivery 1-3 weeks, depending on destination.
NOTE: 14kt gold items might take up to 1 week longer to produce and send.
Most items are handmade at our studio in Amsterdam. If an item is not in stock at the time you place your order, we will make it especially for you. At the moment it might take a week extra before we can send off
your order.
If you need us to rush your order, or you would like to know how long delivery will be for a particular item or exactly your location, please contact us here.